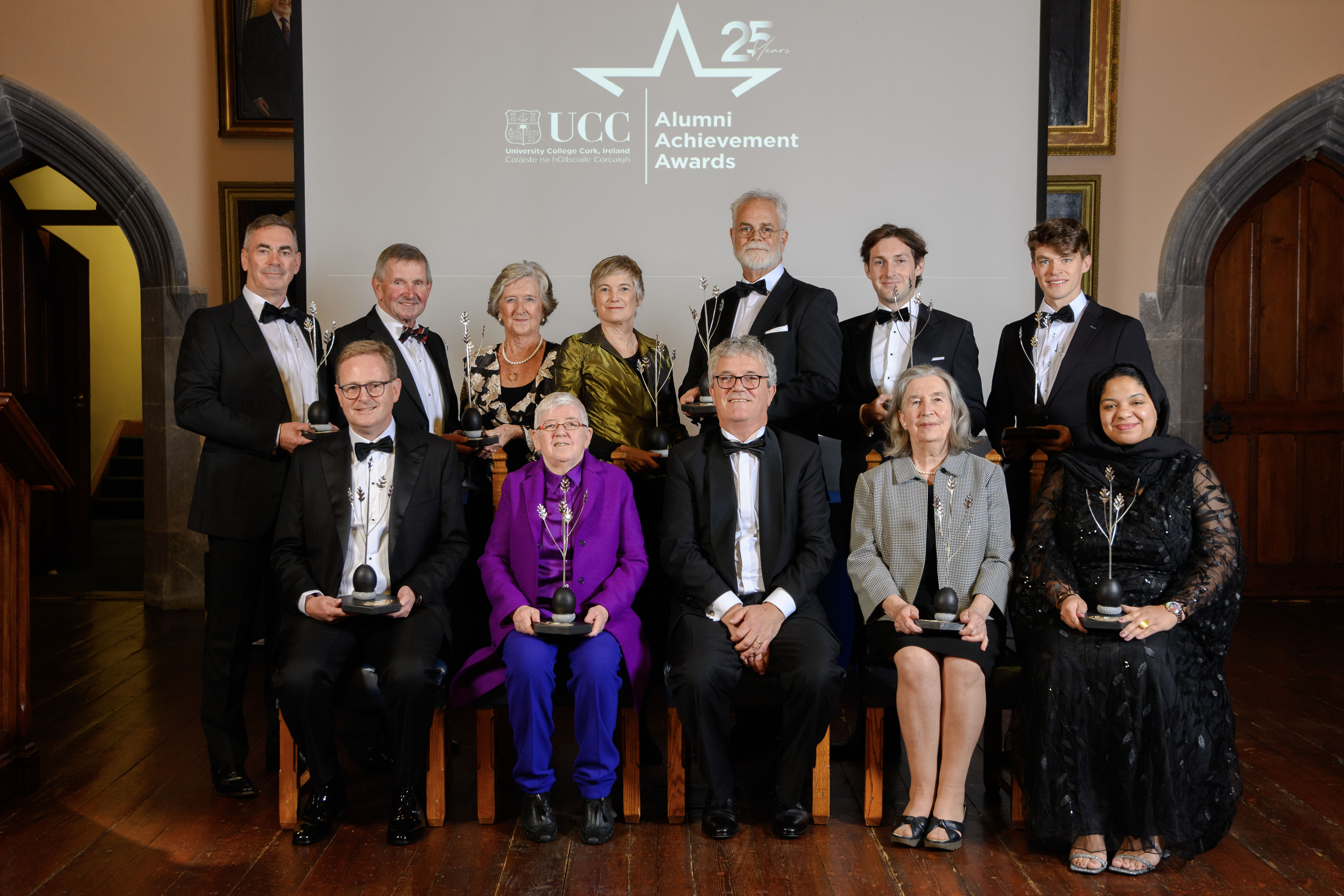 The 2023 UCC Alumni Achievement Awardees - Back Row (l-r): Neil O'Leary; John and Catherine Field; Katherine O'Donnell; Doug Murray; Paul O'Donovan and Fintan McCarthy. Front Row (l-r): Michael Jackson; Mary Crilly; UCC President John O'Halloran; Diana Beresford-Kroeger; and Amel Sami.
Michael Jackson, Managing Partner of Matheson, was honoured at the University College Cork (UCC) Alumni Achievement Awards for his leadership in supporting the advancement of businesses at home and abroad, and establishing strong partnerships between industry and academia.
The Alumni Achievement Awards programme recognises UCC alumni who have excelled in their life's work, who have demonstrated leadership in their field and who have been a source of inspiration to students and of pride to the university. This year marks the 25th anniversary of the annual awards ceremony, which was held on Thursday, 16 November 2023 in the Aula Maxima UCC.
Presenting the award on the night, Kerry Bryson, CEO of Cork University Foundation and Director of Business Development and Advancement at UCC said:
"Michael has helped generate growth in Ireland and right here at UCC, and with this award, the university honours him for supporting the advancement of businesses at home and abroad, for building bridges between industry and academia, and for embodying the UCC ideals of innovation and community service."
Commenting on the award, Patrick Spicer, Chairperson, Matheson, said:
"Michael is a long-time friend and colleague and this award is a fitting tribute for his outstanding professional accomplishments and commitment to Matheson. Michael's exceptional leadership has been instrumental in our firm's growth in the domestic and international market since he became managing partner almost 8 years ago – his vision and drive have empowered our firm to continually adapt to provide innovative solutions to our clients and deliver positive change in the communities in which we operate."
President of UCC, Professor John O'Halloran commended those receiving awards, stating:
"I am delighted to celebrate the outstanding accomplishments of our awardees. Each one embodies UCC's tradition of independent thinking and is a source of great pride to the university."
Managing Partner since January 2016, Michael's tenure at the firm has seen Matheson achieve key milestones. Matheson was the first organisation in Ireland to achieve the Irish Centre for Diversity's "Investors in Diversity" Gold Standard and the first organisation to achieve re-accreditation; and the first Irish law firm to partner with The Legal 500 for the EMEA Global Green Guide. Matheson has had an office presence in Cork since 2018 and the firm's dedication to the area was reinforced with the opening of new offices in Penrose Dock in May 2022.
Under his leadership, Matheson recently partnered with the university to launch the UCC and Matheson Innovation Partnership, creating scholarships and lecturing opportunities in law, technology and innovation. Matheson was named Irish Firm of the Year at the IFLR Europe Awards 2023 and Law Firm of the Year – Republic of Ireland at The Lawyer European Awards 2022. The firm's sustainability and pro bono work has also been recognised with Pro Bono: Outstanding Firm at the Chambers Europe Awards 2023 and Best Energy Achievement in Financial & Professional Services at the Business Energy Achievement Awards 2023.
Prior to his appointment as Managing Partner, Michael spent ten years as head of Matheson's Financial Services practice where he advised many of the world's leading financial institutions. During his career he has also spent time working in the US and in the UK. He has served on a variety of industry bodies and has worked as a member of a number of national financial services strategy groups. He was chair of Irish Funds, the industry organisation representing the investment funds sector in Ireland, for the 2009/2010 session. He is the current Chairperson of Guaranteed Irish, having been a director since November 2017, and is a board member of the British Irish Chamber of Commerce. He was a member of the strategic advisory committee established by the Minister of State for Financial Services to review Ireland's strategy for Financial Services to 2025.
Michael studied law at UCC between 1988 and 1991, graduating with a BCL First Class Honours and was awarded the Peel Prize on graduation. He joined the Law School Advisory board in 2022.
Olympians, Filmmaker, Campaigners and Philanthropists Honoured
Olympic medal-winners, an Oscar-nominated filmmaker, a renowned botanist, activists, philanthropists and volunteers were also among the eleven alumni honoured with an Alumni Achievement Award, one of the highest accolades given by UCC.
They include: Diana Beresford-Kroeger, botanist and author; campaigner Mary Crilly of the Sexual Violence Centre Cork; West Cork community lynchpins, John & Catherine Field of J.J. Field & Co.; Doug Murray, Oscar nominated and Emmy award winning sound engineer; Olympic Gold medallist rowers Paul O'Donovan and Fintan McCarthy; activist and author Katherine O'Donnell; businessman, philanthropist and Cork University Foundation Chair Neil O'Leary; and Amel Sami, researcher and educator.